"I'm not afraid of a little mud!"
Those were my thoughts and expectations in the final days leading up to this year's edition of the Mid South Gravel race.  When the 10 day forecast for Stillwater, Oklahoma had been released, the conditions were calling for mid 60 degrees and a small amount of rain in the days prior to race day.  This would be my first attempt at the 103 mile gravel race with a proclivity for challenging conditions if the weather ran afoul. The analytics on the official race website tout a 54% finishing rate across the first six renditions.  The numbers weren't exactly confidence inspiring for a 'fun' day on the bike – but at least it would be warm.  I became fixated on the 2017 stats and course images because the weather forecasts were somewhat similar.  Participants were coated, head-to-toe in a thick orange clay that was likened to peanut butter.  Everything resembled the most enjoyable cyclocross races that I had experienced in the past, except that the duration of a muddy Mid South would be closer to 10 times that of a typical cyclocross event.  Additionally, I could recollect around the fact that the forecasts in 2017 called for temperatures which were considerably higher than what had actually occurred.  2017 produced images depicting hypothermic cyclists and tales of Jeeps rescuing 90 persons who had become stranded along the route.  At least I had a benchmark for a worst-case scenario.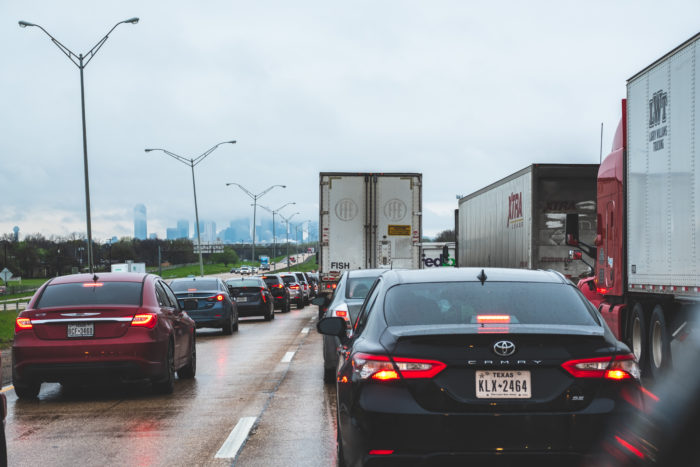 Driving up from Houston on Friday didn't alleviate any of my weather concerns.  There was a MASSIVE downpour north of Dallas at around 11am when the emergency weather alert interrupted my radio programming to inform me that an advisory would remain in place until 11am the following day where wind gusts could reach up to 60mph.  Granted, this was in North Texas and Stillwater was another 3 hours away – but that's entirely too close for comfort in a storm of such magnitude.  I opted to proceed because Mid South is much more than just a bike race.  There would be vendors and friends to meet with, musical events, a beer release party, a 50k trail running race, and new product launches to see first hand.  None of that would be deterred by the weather and in all likelihood the race would also proceed as planned.
I arrived in Stillwater mid-day and got checked in at packet pickup.  I feel obligated to let everyone know that the registration swag at Mid South is fantastically abundant and of much greater quality than most event handouts.  Straight away, I began connecting with familiar faces who had traveled from Houston.  All told, I can account for 20 persons who were present in representing our community, which speaks volumes for the strength and depth of the local Houston riding scene!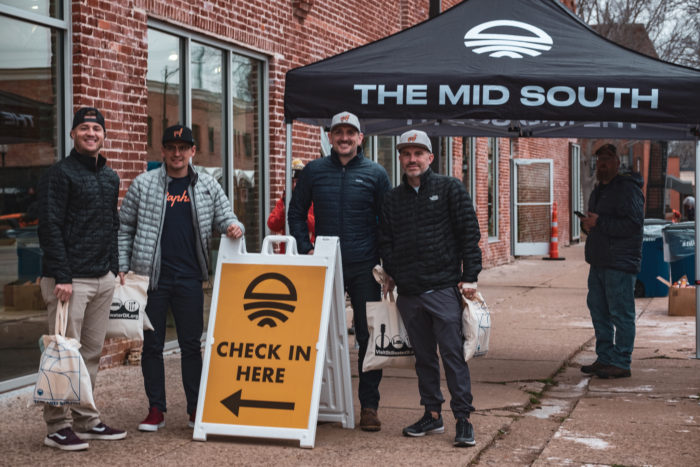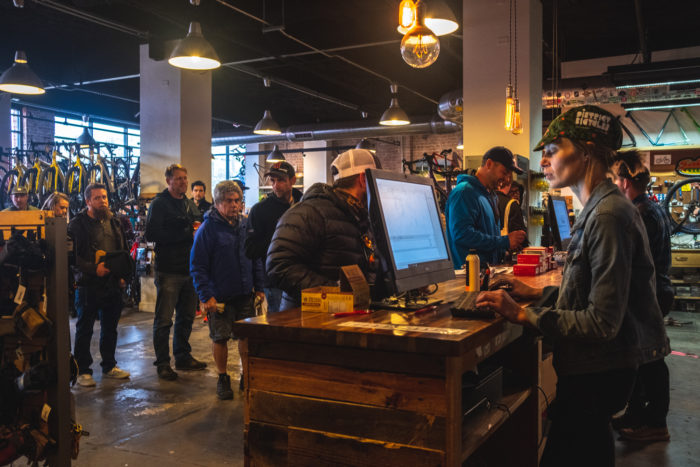 The vendor exposition had been reduced slightly this year due to the COVID-19 outbreak, but still featured some notable attendees in Speedvagen, Rapha, Panaracer, All-City and SRAM in their capacity as neutral support.
Although SRAM was providing neutral support, the only vehicles that would be capable of offering any assistance outside of the support zone at mile 50 would be the Red Dirt Jeep Club, who had amassed over 30 vehicles to play a pivotal role in collecting stranded riders who weren't able to proceed. There were times when even the Jeeps would get stuck in the mud and would need to winch each other out!
The Orange Seal tent contained the Allied Able of Colin Strickland which was painted in a limited edition Rapha Cycling Club paint scheme that would be released for public purchase later that evening. Perhaps we may encounter an RCC member from Houston riding one shortly! One can hope…
The day quickly turned to night, vendors packed up their tents, and the Mid-South IPA from Iron Monk Brewing began to flow.  There were bands on the stage playing through the rain and even Bobby Wintle, race director and co-owner of District Bicycles, jammed out a few songs. A few turned into many and the rider meeting that had been scheduled for 7pm didn't take place until closer to 8:30pm.  Nobody minded.  Positivity was encouraged and we all retreated to our lodging with high spirits for the long day to follow.
I was lucky to have been invited by Travis Dubose, who has attended all but two of the previous Mid South events to stay at a home just over a mile from the race start near OSU campus.  It was reassuring to have a Mid South Gravel veteran confirm that my bike configuration and preparation wasn't completely off the wall crazy. I would be riding my Ritchey Swiss Cross disc with 38c knobbies, SRAM Rival 1x with a 42t chainring and an 11-32 cassette along with TRP spyre mechanical disc brakes.  In my Rapha bar bag I stashed some food, two extra tubes and a paint stirrer that was provided at check in to clear off any mud buildup on the bike. Then we went to sleep – at midnight.
The race was scheduled to begin at 8am on Saturday morning.  Travis and I ate a moderately sized breakfast before riding through the rain to District bikes where the starting line was. During the ride in, we observed some considerable lightning strikes that we knew would postpone the start.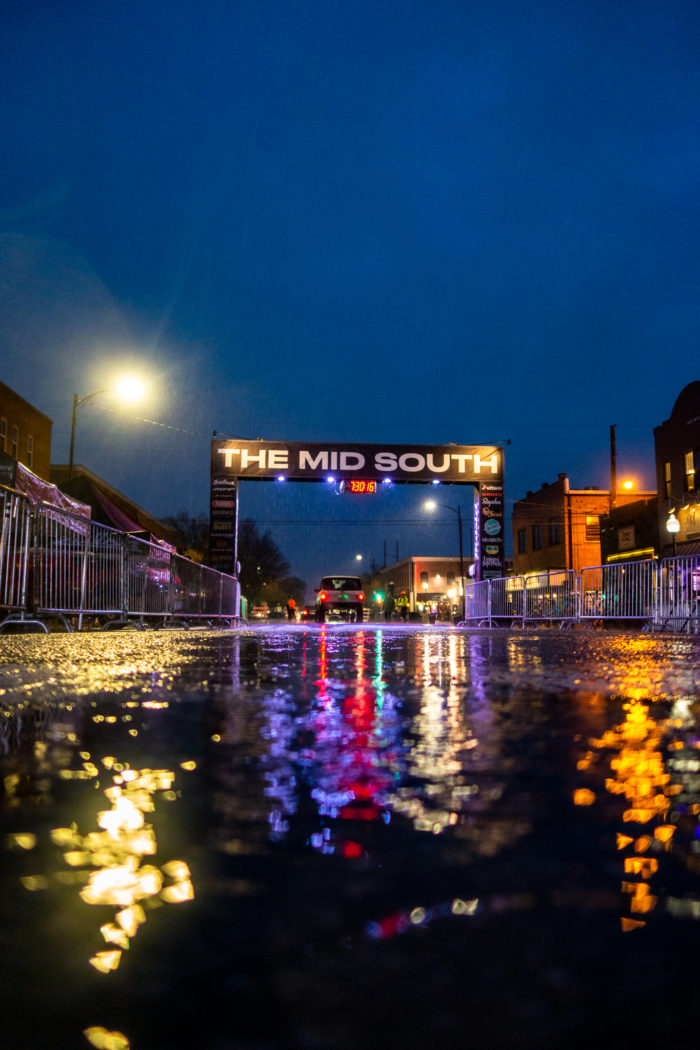 The vibes inside district were slightly better than somber.  Bobby looked to be preoccupied with the weather forecast while more and more riders arrived and packed into the shop to take shelter.  Thankfully, District isn't as small as it's original location and there was room to move about without feeling too concerned about 'social distancing' precautions.  Bobby is renowned for his enthusiasm and positive energy.  In years past, he quite literally stands at the finish line and distributes hugs to each and every finisher over a period of close to 10 hours or more.  This year would have to run differently.  With no physical Bobby hugs to be had in 2020, the gravel guru team came through with a hilariously clever substitute in the form of a face cutout board.  Bobby was loving it!
The start was pushed back 30 minutes and the space began to fill with bodies.  I think everyone had COVID on the mind, and I do believe that in that moment, there was far greater concern around being in close proximity to other people than there was over the daunting task of 103 miles in conditions that would – and did – make veterans of the European Spring Classics wince.
After just a few minutes spent in the shop at max capacity, we all queued at the start line to begin at 8:30.  Travis, Giovanni, Miles and myself positioned ourselves a few dozen rows back from the front because none of us were planning to compete in any sense. I've consistently referred to Mid South as a 'race.'  Which it is, but it's also an opportunity to spend a full day on the bike with your friends at a manageable pace where you can stop to enjoy the calamity, take photos, make bike repairs, and to give recognition and thanks to the volunteers and Jeep rescue pilots.  Erik from Denton was on hand, and if you've been to any major cycling events in Texas, you'll remember him. Guaranteed.  He'd be making an appearance later in the day at one of the more challenging points of the course in Brethren Hill, a mud soaked punchy climb at mile 23.
We all experience some chills of standing around in the cold rain anticipating the cannon fire to initiate the race.  There was but 2 miles of paved riding out of town before we rolled into the first bit of mud.  On this day, the course would be exclusively mud. No dirt. No gravel. Pure mud. Derailleurs were being destroyed and profanities associated with DNF's were broadcast into the Oklahoma air almost instantly.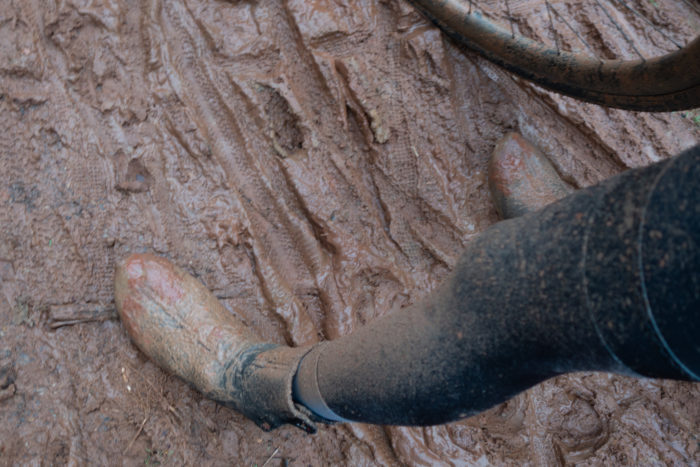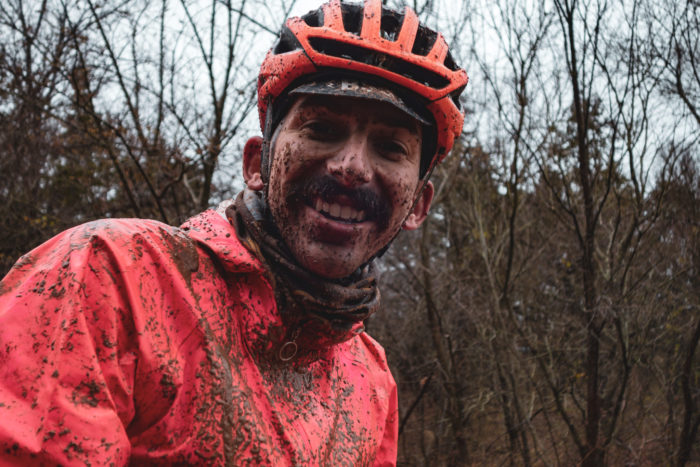 It was somewhat challenging to choose a line on the day because the mud in the two-track from vehicle use was slick with the consistency of jelly but only reached a depth of two or three inches, which altogether wasn't much of a disruption to rolling resistance.  If you were to ride just six inches to the left or right then the mud would soften and could massively reduce your speed.  Unclip to put a foot down and you might sink up to your ankles.  Because of that, most people would stop in the only usable line forcing riders from behind to slow or venture into the thicker mud.  By mile 18, the pads on my TRP spyres were completely used up, mostly from avoiding those who had stopped ahead of me in the preferred line.  Adjustments to the cable tension didn't last past the next couple of hills and I realized I'd be without any brakes for the remainder of the day.  If I were to repeat the event in any different fashion it would be to resolve those two issues. I would 1) use hydraulic brakes and carry an additional set of pads with me to swap when needed. 2) Start closer to the front and not behind such a large number of recreational participants.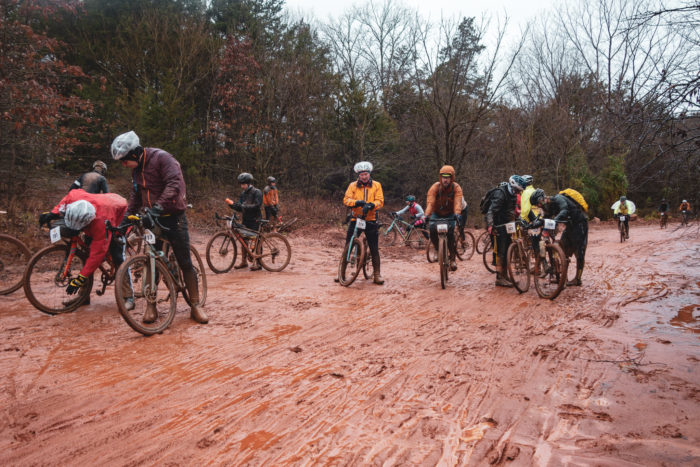 We reached a bridge crossing at the same time as Jesper and Benji, also from Houston, so we stopped for food and a couple of photos as a keepsake.  At mile 14, it was already evident that the odds were stacked against us in the 'broken bike' lottery.  For many, it was at this point that zippers began to jam up and fail.  Bar bags, jackets and overshoes were being destroyed left and right.
Onward to Brethren Hill, where Erik awaited in a SPEEDO and combat boots!  Although I was concerned with my cassette choice at first, I managed to ride each of the hills prior to and including Brethren. In the mud.  In dry years, I wouldn't even consider a gear ratio lower than 1.3. So there's some equipment advice for you. Did I mention that Erik was chasing people up the hill in a Speedo offering Montucky Cold Snack handups?!? If the conditions were akin to a cyclocross event, the heckling would need to correspond adequately…
Although I beat the odds in the aforementioned broken bike lottery, my travel camera didn't survive the day.  The last photos we were able to eek out were some blurry stills of me trying to clean my drivetrain in a gutter.  From here on, I'd be dependent on an iPhone, which I was fearful of damaging as well, so it stayed tucked away for most of the duration.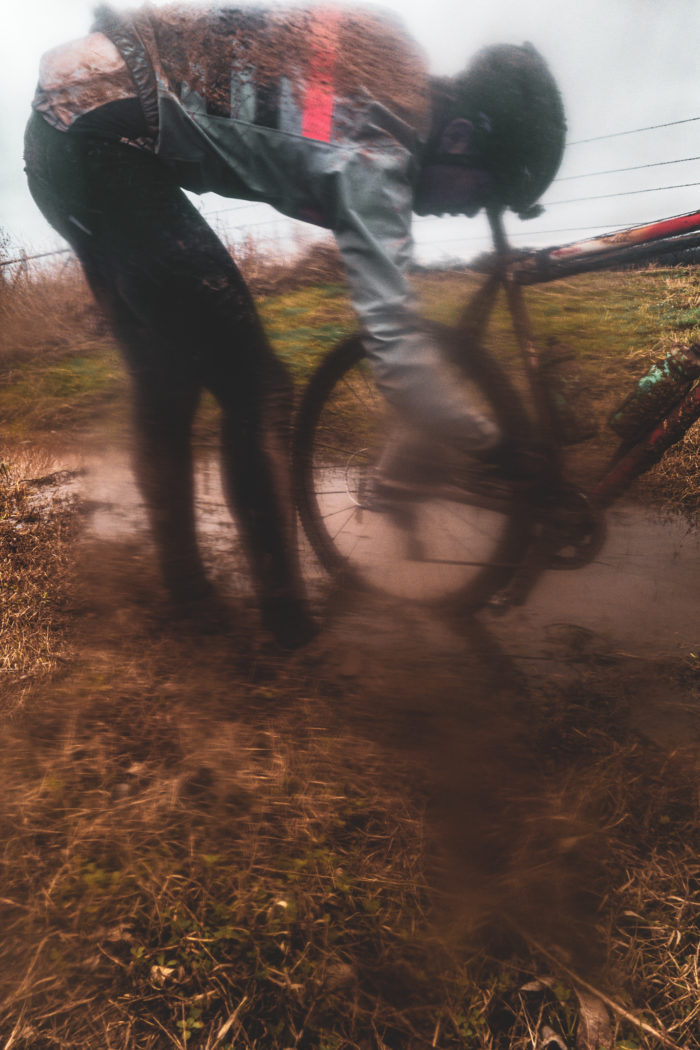 The issue was that my chain kept gunking up with mud and small rocks.  It would dislodge off the front chainring due to the tight tolerances of the narrow-wide profile.  This would resume for myself and most all 1x riders for the entirety of the first 50 miles.  For whatever reason, It never occurred during the second 50 miles, maybe due to having even thicker and more dense mud than the first half of the course.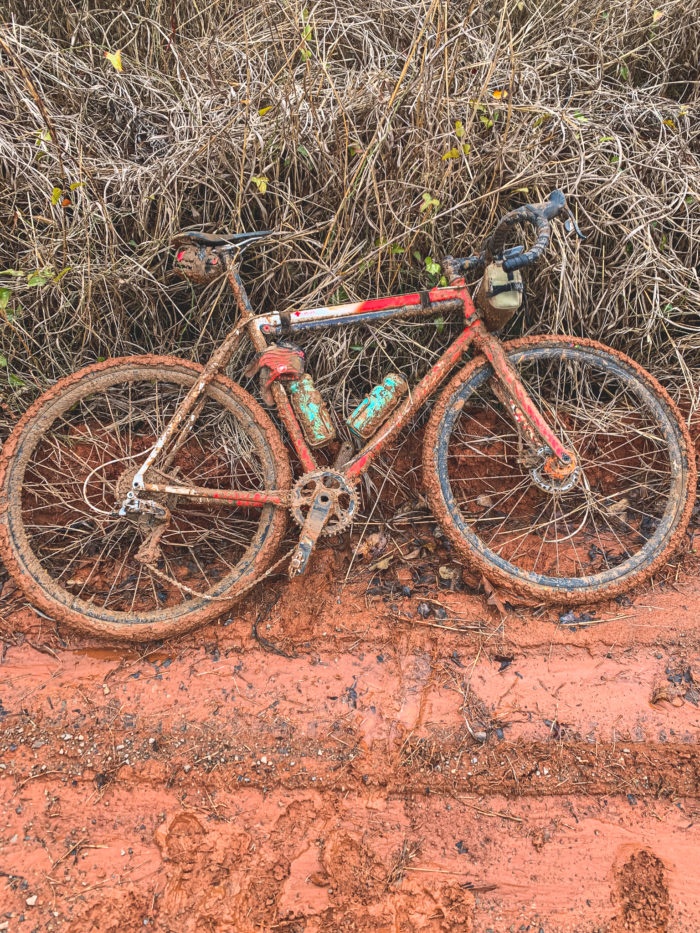 At the halfway point, most people were calling it quits and hitching a ride back in one of the Jeeps or shuttles. It had taken over six hours by that point and another six would have us finishing in the dark at 9:30pm.  Miles offered his light for my use should I want to continue further.  I accepted. If it had not been for his generosity, I wouldn't have been able to continue.  Even Giovanni was willing to lend me his bike since his brakes were still functional.  Houston riders and the community around BSS are simply the best, and I can't wait to attend more events in the future with the likes of all of you!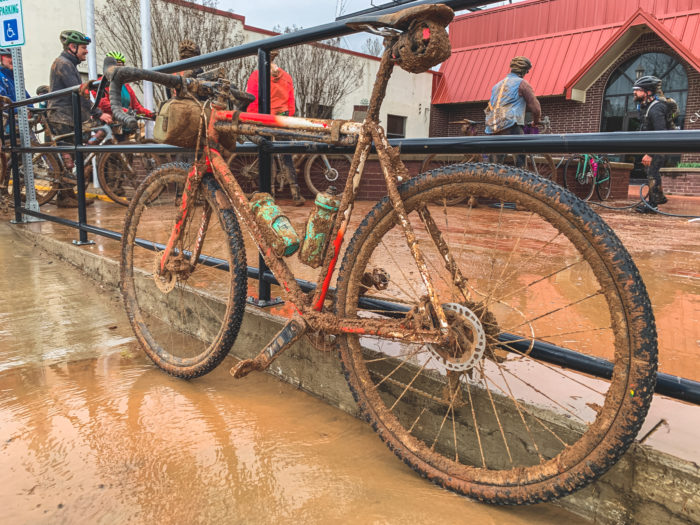 So onward I went, where I knew I'd be riding into the darkness, where the course was more hilly, less occupied, and the mud less packed. There were lengthy segments of hike-a-bike through shin deep mud.  There were rollers where I was dependent on either using Fred Flinstone brakes or deviating from my line into the softer surfaces of the road for resistance.  There were far less companions on the route and far less Jeeps to be seen providing solace.   Mile 80 held an outpost where Skratch Labs were cooking rice cakes on a hot plate.  I had three, along with some energy chews, a banana, water refills and an IPA.  I was tempted to remain there and join the social atmosphere around a campfire that had been established.  However, I had a chance encounter with Daniel from Illinois, who was riding one of the most astounding Mosaic GT-1 bikes I've seen to date.  I'd admired his bike through social media in the weeks prior and didn't want to pass up the opportunity to have a chat with another Mosaic owner, so we agreed to ride the final 20 miles together in our muddied up RCC kit – including the creek crossing at mile 90 where depending on how you crossed, would be either waist deep or knee deep.  No matter where we opted to cross, it was going to be cold.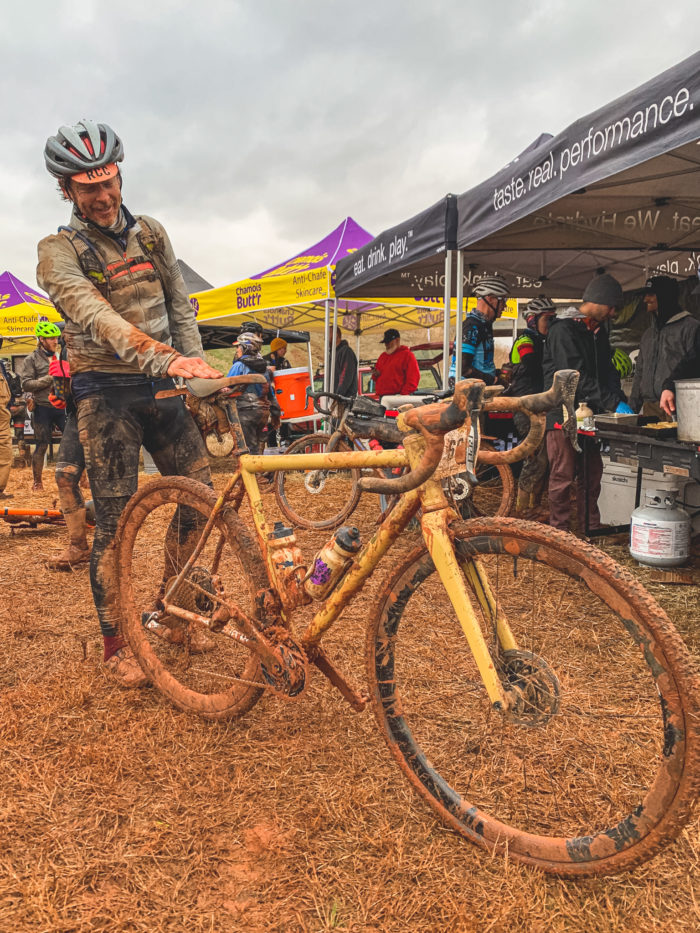 As we rolled in together, I reflected back on how satisfied I was in the decisions leading up to and throughout the course of the Mid South.  There were many factors to consider and to be concerned with prior to departing Houston.  Some were rather daunting, like COVID-19. Others were small, like tire selection and PSI.  In the end I can only suggest to anyone contemplating how to tackle a challenging ride like this is to JUST GO AND TRY.  Give it your best effort.  Trust in your equipment.  Trust in your abilities. Have fun with your friends. Make new friends. YOU WILL ENJOY YOURSELF! It's likely to be the reason you signed up in the first place.  Unless you're racing it, and good luck with that! You are in for another level of pain and suffering if you commit to racing an event like a muddy Mid South!