We are living in an era where many top-end bicycle offerings are made to either wear out or lose style over time. A very blunt descriptor that comes to mind is "disposable."  That isn't to say that the créme de la créme of Italian super bikes aren't demonstrably and verifiably the the fastest, lightest and stiffest in the world. There's no disputing that!
Eh, I'll take that back.  You may reconsider if you were to speak with one of the American manufacturers who can provide their own wind tunnel data to show figures to the contrary.  My point is that the brands who are heavily invested in winning the biggest races on the professional calendar will continue to innovate and churn out bikes that are factually 'better' than those from three years ago.  In my reality where I won't ever find myself contesting a sprint to earn a paycheck or a contract extension, I look for value in the form of longevity, durability, and a well crafted timeless aesthetic . Conversely, as a ride leader for Bicycle Speed Shop, high-performance must remain a factor. What follows are just a few words, and a barrage of photographs to highlight how I've chosen to build a top-end bicycle that will be worth keeping, won't degrade over time and will say something about who I am as a person.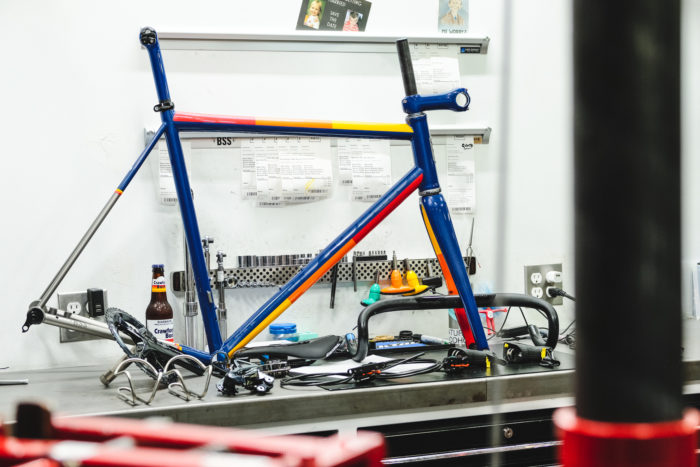 I'll begin by reminding everyone that a great amount of work has already gone into my Mosaic by this point, and it hasn't even been assembled yet.  There were several hours spent with Brian determining my ideal fit coordinates for riding hard while maintaining sustainable endurance.  There was the time spent by Phillip running BikeCAD to preview and approved the recommended geometry and paint layouts. Aaron must have spent a considerable amount of time behind the welding mask with torch in hand making flawless titanium welds. I honestly haven't even asked Spectrum how long Arthaya needed to complete the "Houston Heat" paint job.  The number will be too high for me to bear knowing this bike will get used and abused frequently and will undoubtedly chip, scratch and develop patina.  But it WILL roll on with reliability.  This I know because my bike has been built and maintained by Ryan Strayer.  Every single one of the bicycles that gets built at the Speed Shop goes through Ryan's stand.  He moves about his workspace with a meticulous precision of experience and confidence.  There may be other bicycle mechanics in Texas that I would trust, but they wouldn't be my first choice…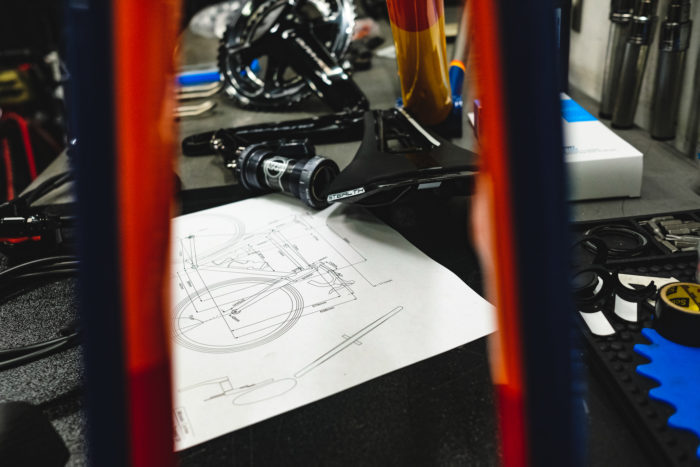 I don't think I've ever seen Ryan use a set of tire levers. Even the most tight fitting setups get rolled on by hand and pure grip strength. I know that my C40s wheels are safe from damage in his hands.  I also know that he is an immensely particular wheel builder, and that he will throw a brand new set of production wheels in the truing stand only to bring them out better aligned than when delivered.
As a photographer, I hate that our service towels are bright colors! They're blatantly obvious in every one of my shots, but Ryan employs their use with every build because he takes an honest responsibility for the customer's property.
Do you think you can spec the length of e-tube cables, junction boxes, and battery components to wire a Di2 bike? There's 11 of them on this bike, not including the shifters or derailleurs!  Then there is the task of fishing them through the frame and making sure that there isn't a mile of electronic spaghetti in the downtube.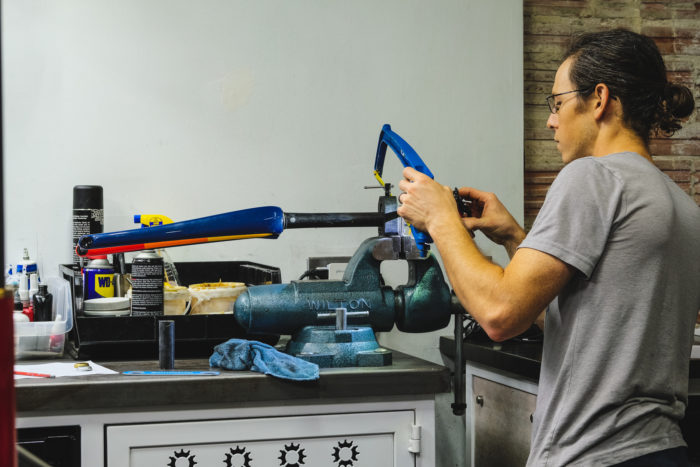 Measure twice and cut once.  It would be a shame to ruin a one off fork such as this.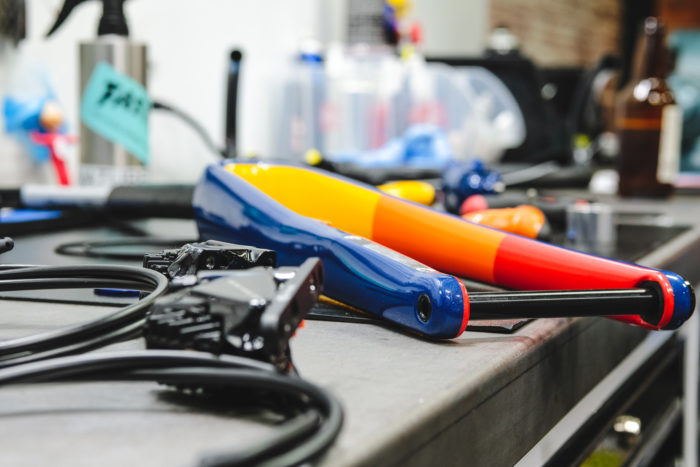 I prefer Chris King headsets, bottom brackets and hubs because of their longevity, precision in manufacturing and serviceability.  I honestly believe that the trickle down strategy employed by Shimano yields an equally capable product at lower price points, but I also have an affinity for precision goods from Japan. Dura Ace components and ReneHerse tires by Panaracer are still produced exclusively in Japan.
After hours builds go a little more slowly than those during the workday.  Food and Drink breaks apply.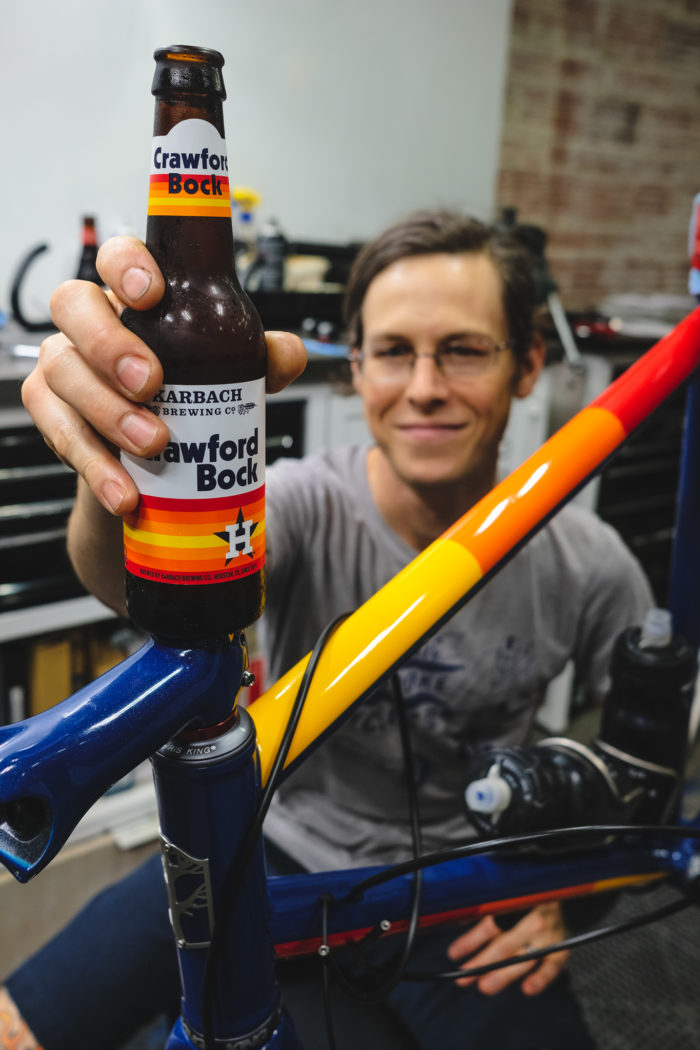 I had requested that the water bottle bosses on my seat tube be positioned as low as possible in order to use a large sized frame bag.  The BikeCAD files from Mosaic confirmed what would and would not provide the clearance needed without interfering with the front derailleur.
Ryan has an interesting technique for fishing cables through carbon handlebars that retain some of the bladder material from production.  It works amazingly well!
The Shimano Pro Vibe bars are much more stout than other carbon bars that I've used.  They produce a very robust feel to the front end.  As mentioned earlier, I'm not chasing any sprint victories, but I routinely patrol group rides from the rear to the front and appreciate the characteristics of this configuration. They're also pre-drilled for Di2 cabling.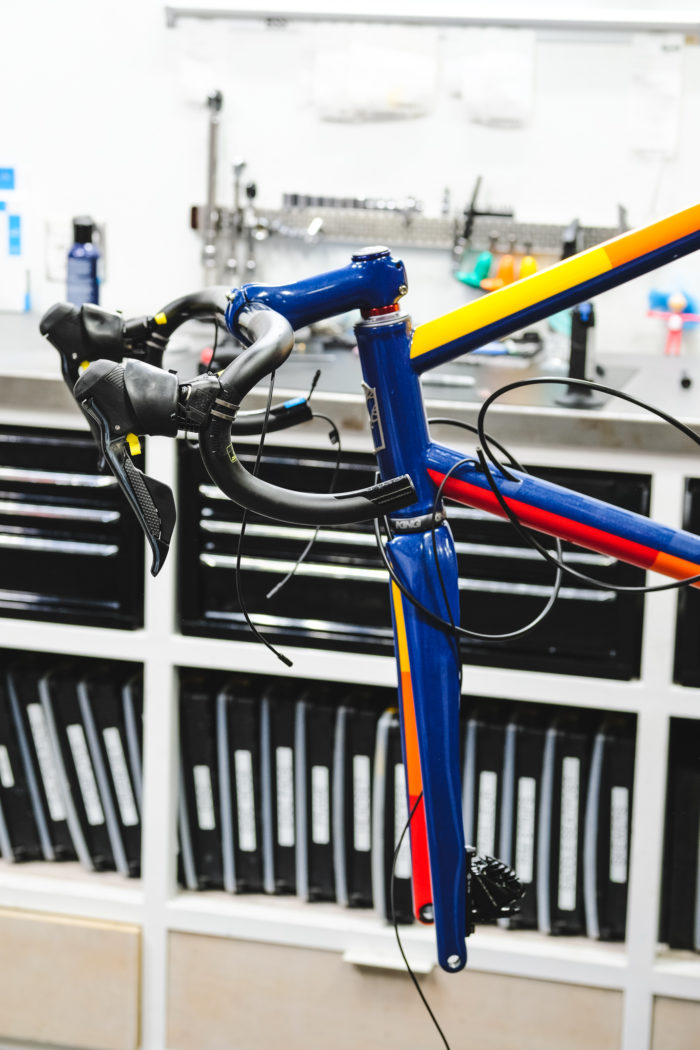 Hydraulic brake lines are then terminated with the appropriate fittings….
and onto the calipers…
Everything checks out good.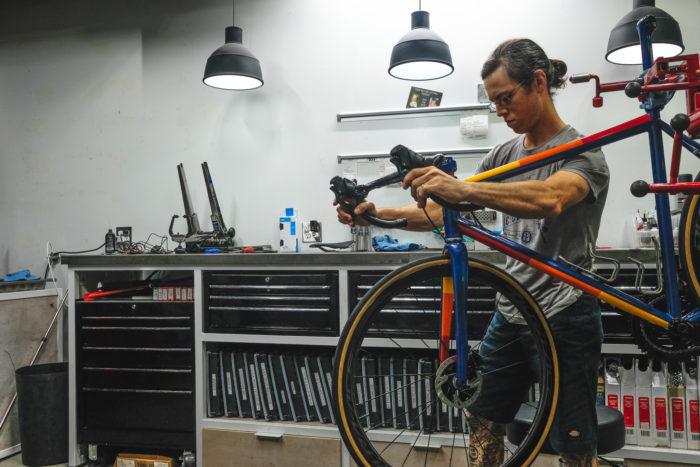 Tidy cables and finishing work are something that I know Ryan is a stickler about.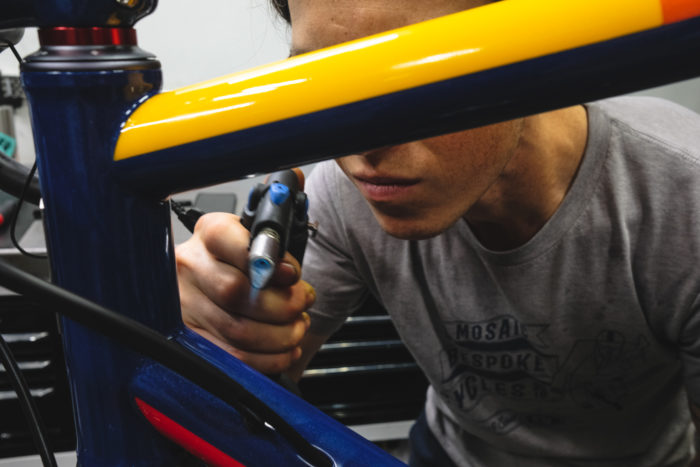 The Shimano Pro Stealth saddle ended up being something of a short-lived experiment for me.  I've ridden versions of Fizik Antares on all my bikes for years. I had been wanting to try one of the modern style of short-nosed saddles and gave the Stealth a shot.  It was just too firm for my personal liking and I've since swapped over to a Fizik Vento Argo R1 in 140mm after Brian conducted a saddle pressure mapping session for me.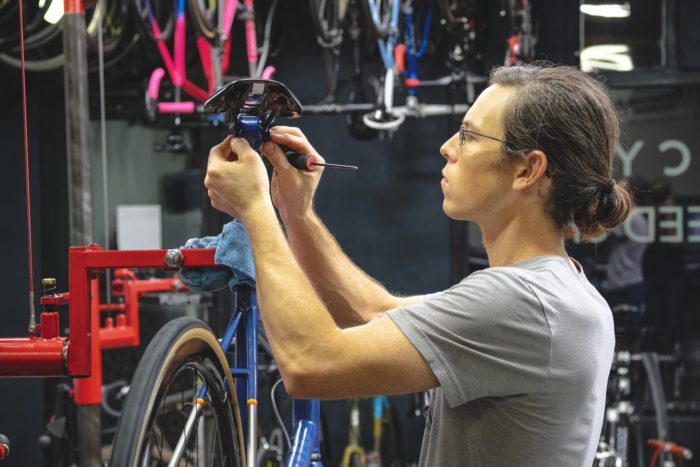 Ryan uses my Retül fit coordinates to set my saddle height and configure the Stealth with exactly the specified amount of setback and nose tilt.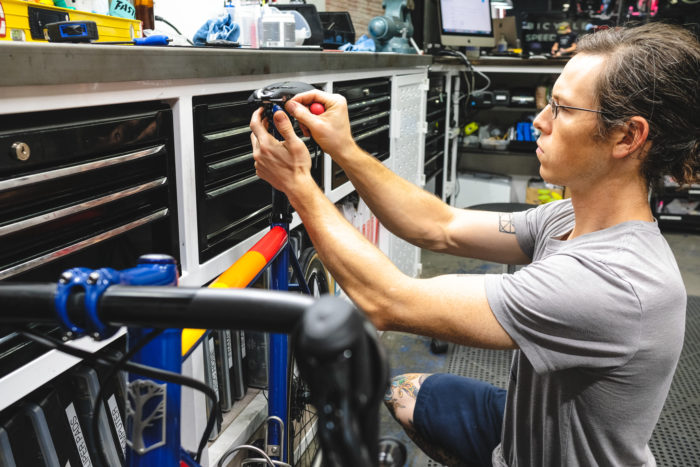 When the pedals, chain and bar tape are making their way onto the bike, things get suspenseful. It's now very near completion and I was was anxious to take it for a ride – even if it was well past midnight!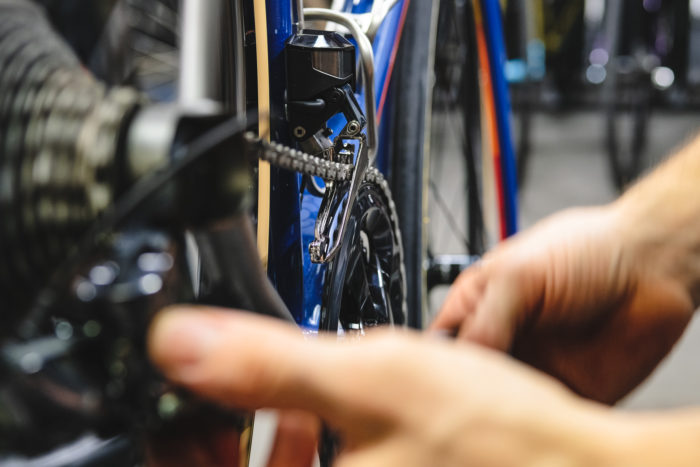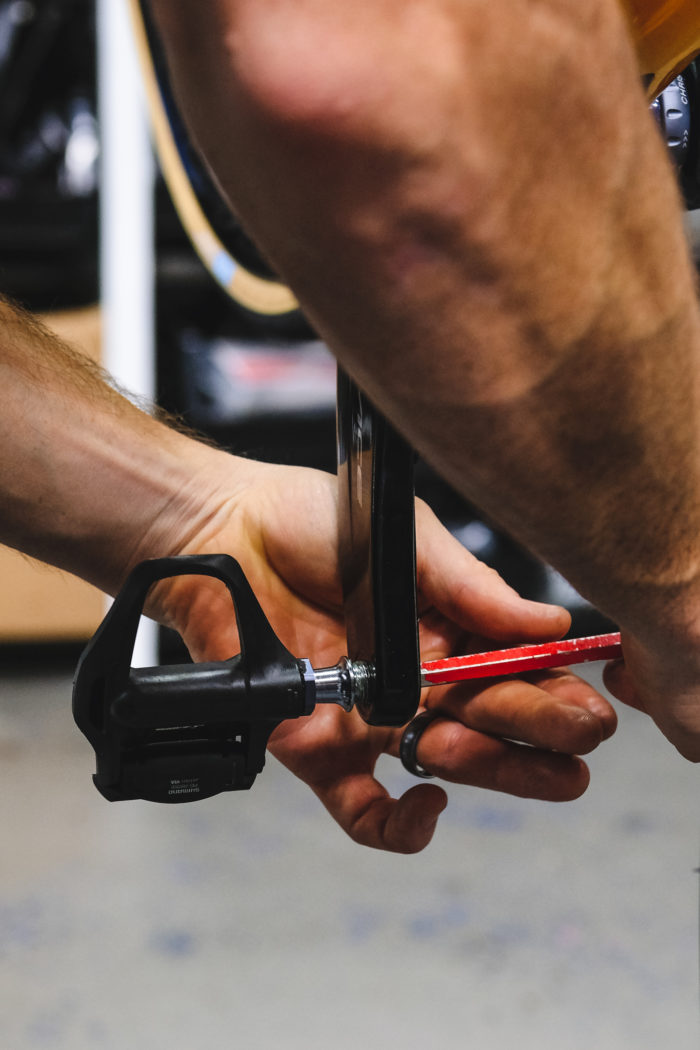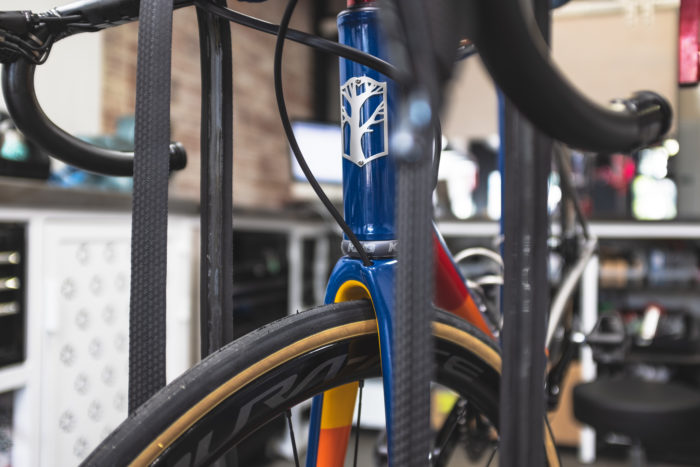 No two people are the same.  Why should two bikes be the same? When paying serious money for a bicycle, I want to see mastery in the welds, the paint, the geometry and the assembly.  I want to demonstrate a fit and finish from my bike that shows I give a damn.  That is so much easier to accomplish when you know the people who actually built your bike and that they give a damn.  A well crafted round tubed bike will always carry a unique story of personality that can never be matched by a production line.  Thank you to everyone involved in crafting this bike.  In part IV, I get to ride the shit out of this beautiful thing and tell you all how much fun I'm having on it!