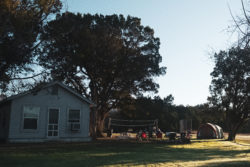 There lies a place within Texas – not terribly distant from Houston – which contains open roads with persistent rolling hills, respectful motorist and a single Category 4 climb to finally put some wear onto our neglected small chain rings.  To get February off to a proper start, I made a weekend trip over to Wemberley to barge in on the Otto Velo team camp activities.  Lodging was arranged at the Texas State University campground "Beretta Lodge" nestled along the scenic Blanco River. The bulk of the Otto group had just wrapped up dinner upon my arrival that Friday evening, steering the remnants of the night towards rock-paper-scissor matches for bunk space and a raucous debate over frame materials. We've all been there before, even though it's long been settled that Titanium triumphs over all…
A decent slumber was surprisingly easy to come by considering the barracks style arrangement of the cabin and it's 15+ male occupants.  Those who opted for a more traditional camping experience via tent quarters ended up being harassed by a nearby pack of coyotes all night. Or maybe it was dogs.  At least I was safe in my top bunk next to the heater.
Naturally, with cycling comes coffee.  What does a cycling team bring to camp? Coffee makers.  All of them.  There were about 30 different machines dispersed around the cabin.  I won't say who was able to brew the best cup – but they know who they are, and they know what's good.  Thanks, buddy!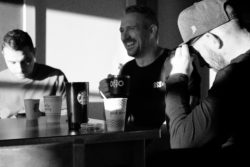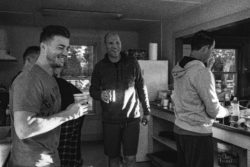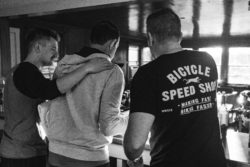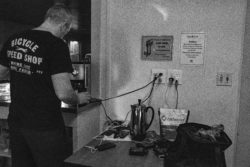 The camaraderie between the Otto 'Llamas' was palpable at the breakfast table that morning, and remained present through the day's riding activities.  It's undeniably evident that this team is built around authentic friendships and a shared interest in hanging out together.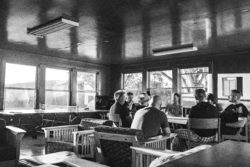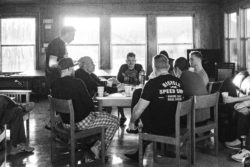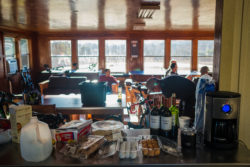 Before the last of the donuts were consumed, our friends Erik Binggeser and Alison Mae arrived from Austin to shoot some team photos and rider portraits.  Both are fantastic photographers and supporters of Bicycle Speed Shop who always bring an elevated level of fun to our shop rides and cafe space.  Until now, I never thought it possible to ride an entire day toting a full frame canon setup and maintain a cheerful vibe. Thanks Y'all – especially for working in that water drop!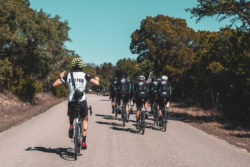 Enough of the preparatory cabin chatter.  Let's have a look at why we were out there.  I can now attest that the allure surrounding the back roads of Wemberley and San Marcos is warranted not just for us Houstonians but should be for the entirety of the state and those neighboring.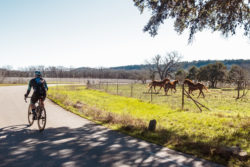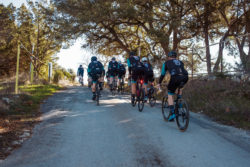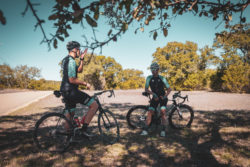 In addition to riding alongside equine in full gallop – okay, maybe it was only a half-trot, we're not delusional here – we were also afforded the luxury of a water crossing.  Admittedly, I think the water crossing may have been my favorite part of the weekend.  Not so for everyone.  If you're not familiar with the intricacies of slime covered concrete, it'll sneak up on you! I'll break tradition of secrecy and reveal that the key to success is easily found in a pair of Rene Herse Chinook Pass tires.  We all live and learn.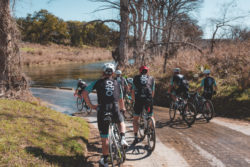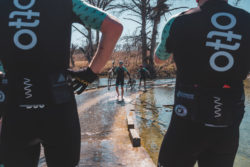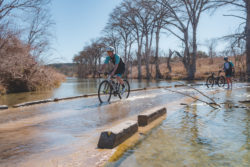 We also got thirsty.  The River water option didn't bring home a unanimous vote so we pulled into a biker bar. Like, a legit biker bar. We're ARE bikers right?  The bearded locals were super welcoming by chatting us up and showing us their club cuts. The Otto gang reciprocated and dazzled em' with solid roll-out that may have included a few synchronized wheelies…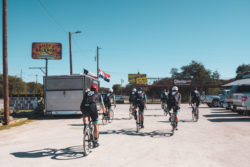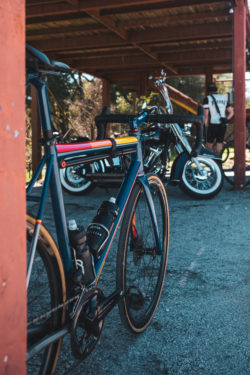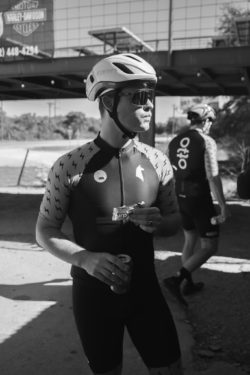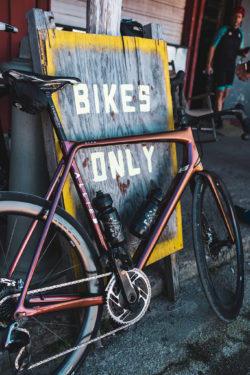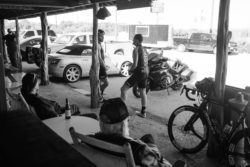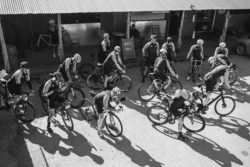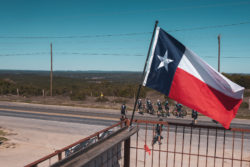 The remainder of the ride was spend enjoying each other's company as well as the terrain and surroundings, how all the best rides do…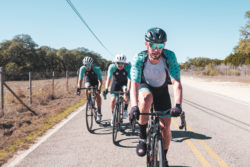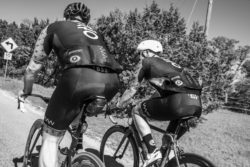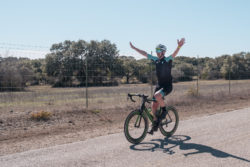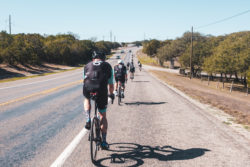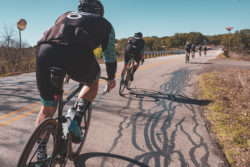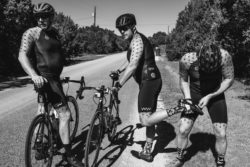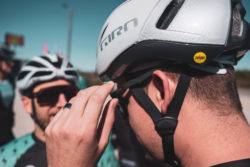 Tony wins my very unofficial 'powerhouse' award after twice replacing a bad tubular and then soloing on to rejoin the group while we schmoozed away at the biker bar. Way to keep it together out there, Tony!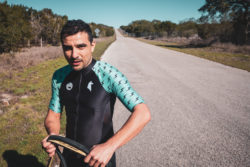 Oh yeah, and then there's that climb I previously mentioned. The Fulton Ranch Road climb is a half mile at ten percent gradient and was located just two miles from our cabin.  I could have hung around this little kicker of a wall all day long and the 3 hour trip would have been worth it!  I tried to stay put and plead my case for hill repeats, but the team convinced me that there would be absolutely no joy in a group everesting attempt and ultimately, I'm glad that I pushed on with the team and solidified a couple dozen new friendships in the process.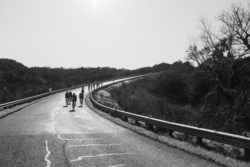 Back at the cabin, we turned to the banks of the Blanco river for an ice bath and recovery beverages.  What better of an opportunity to break out the Bicycle Speed Shop coozies!
The next morning was Super Bowl Sunday, which means several team members had to depart early for other obligations (traitors!)  The remainder of us went into town to commandeer 90% of the table space at the Wemberley Cafe for breakfast.  I wasn't the only person to over stuff my gut on biscuits and gravy to the point that Sunday's ride would devolve from a training opportunity to more of a group cruise.  I did manage to corral the entire team back to the Fulton Road climb once more.  Everyone already knew that would be in the cards if I had my way with things…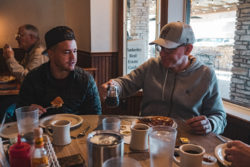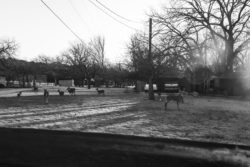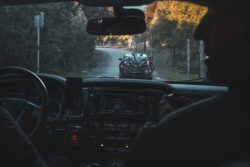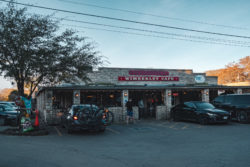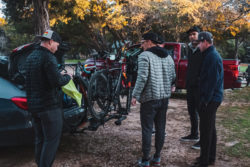 Thanks to everyone on the Otto Velo team for a great weekend and extending the invitation to us at the Speed Shop to join in.  It's a real treat to witness a team that work so well together.  Let's do it again next year…