We're lucky to have wonderful customers who want the best bikes around.
Here's a few bike builds, in no particular order, that we can't seem to stop thinking about as we look back on 2018.
.
Nathan's Mosaic CT-1.
This eye opening, southern themed Mosaic CT-1 is a definite 2018 favorite. Mosaic released the CT-1, a city oriented titanium bike, in early 2017 and spec'd it with Shimano Metrea, external cable routing & flat mount disc brakes, but in typical Nathan Hartwell fashion, he chose to take the CT-1 fully custom. Not only did he choose custom paint, but he opted for custom geometry as well as internal cable routing.  Spectrum's Tri-Panel paint design well represents the Texas flag while "God Bless Texas" on the rear fender accurately captures the bike's voice. It's outfitted with XT/XTR, Dura-Ace flat mount hydraulic brakes, a White Industries hub/headset combo & an Enve cockpit. Brooks touch points give this CT-1 the "King Ranch" vibe it needed.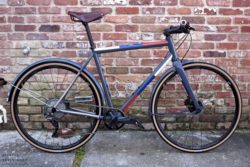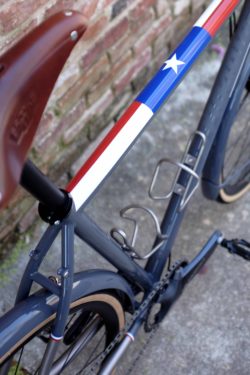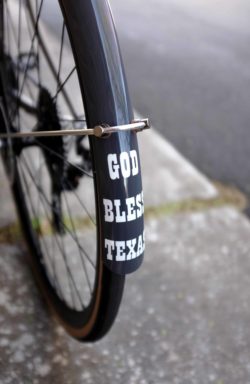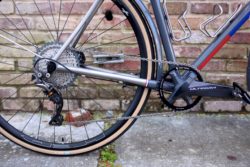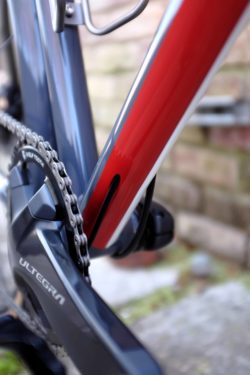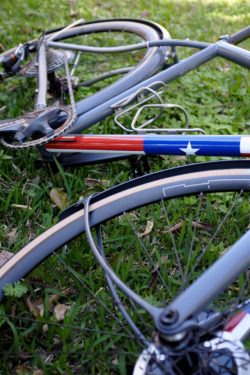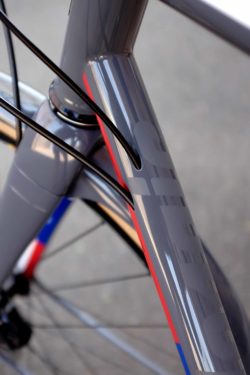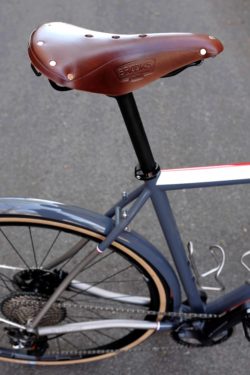 .
Jason's Pinarello Dogma F10 Disc
It usually takes a good bit of back and forth to finalize a build like this, but Jason knew what he wanted from the get-go. MyWay paint, Dura-Ace Di2 hydro and Leightweight Wegweiser disc clinchers make this F10 a totally bombproof superbike. This was the first of several projects with Jason and each has been stellar, both in caliber of componentry and pleasure of process. Nothing is better than putting together an amazing bike for someone who's excited and decisive! This bike has it all; Italian heritage, beautiful paint, a robust gruppo & classic-meets-modern appeal. If you're in Houston, keep your eyes peeled for Jason, he'll be the one stealing your KOM's on this build of a lifetime.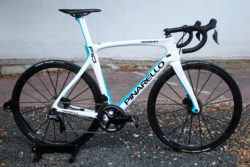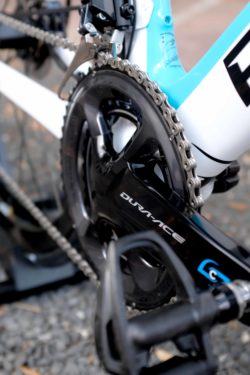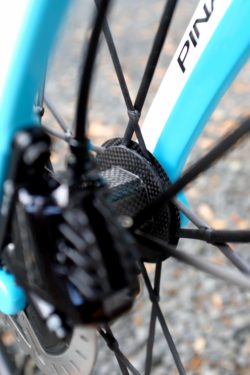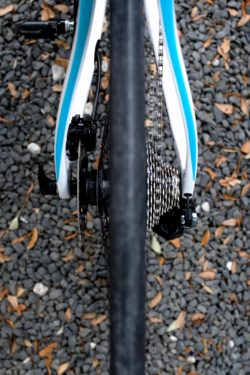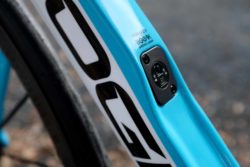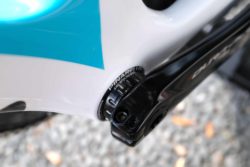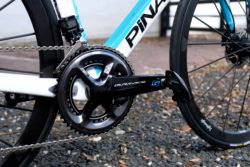 .
Turnbow's 650b Mosaic GT-1
Ryan stopped by the shop for the first time with a bike that needed some help (no judgement, Ryan, we love you). We got him rolling for the MS 150, but it wasn't long before he scheduled a Retül fitting for a custom Mosaic. Ryan's GT-1 is a product of the "story" we strive to create here at the shop. Our hope is to expose the joy of riding well-made bicycles by riding them ourselves. Carrying brands we believe in makes conversation fun and the conversion of souls from big box to handmade effortless. Though this bike has custom paint and shiny bits, it doesn't get much simpler. Mechanical Force 22, handmade wheels, SimWorks and White Industries make this all-road machine the perfect combination of function and that CNC'd look we all love. To top it off, the Compass Pumpkin Ridge 650b x 42mm tires allow this bike to roll smooth on pavement and dig deep on dirt.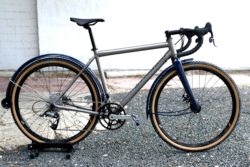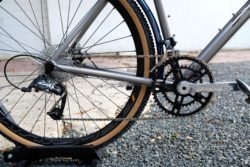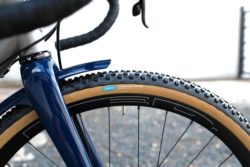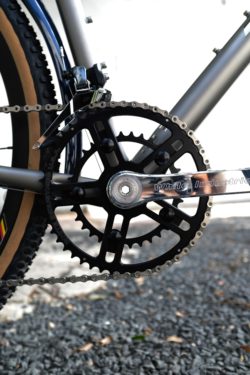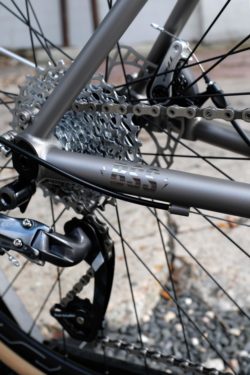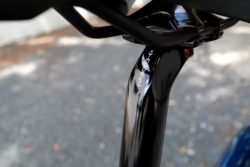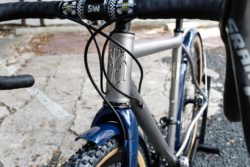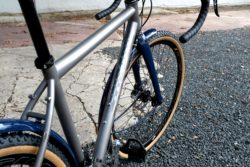 .
Warren's Pinarello Dogma F10 Disc
What would a 2018 build recap be without a blacked out beauty? Warren's F10 disc does the trick. Shimano's latest high end Di2 group with hydraulic braking, Dura-Ace 9170, functions flawlessly, bleeds like a dream and has a super compact shift/brake lever set. The Dogma F10's downtube-integrated Junction A port has made it a stellar Di2 contestant and definite aesthetic improvement from the F8. Zipp NSW's and the tubeless S-Works Turbo tire join some of the best R&D surrounding road tubeless out there. A matte black Zipp SL carbon bar & stem compliment the wheels and tie the whole look together.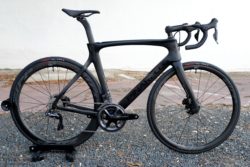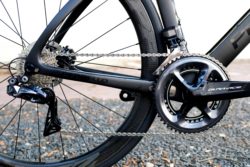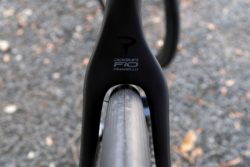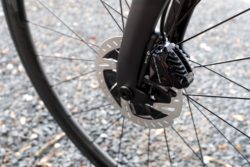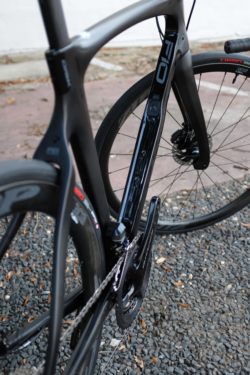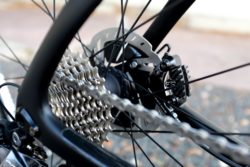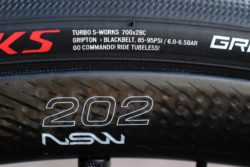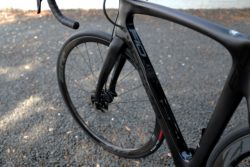 .
Mike's Mosaic GT-1
Mike's got an appreciation for metal bikes and handmade parts. He's a DIY guy, he bakes bread and roasts his own coffee. Mike is cool. Naturally, he landed on a Mosaic GT-1. Coming from a rim brake Surly outfitted with a dated, yet brawny, mechanical group, Mike knew he wanted mechanical shifting, disc brakes & a bike he could ride on and off road. In rolls the GT-1. This build was coming together just as a few new components were surfacing; Shimano's RX800 clutch rear derailleur as well as flat mount Paul Klampers. Mike opted for both and the bike came together flawlessly. With a 46/32 VBC chainring combo from White Industries, and a 34t cog capacity in the rear, he's got gear range for days. Compass Bon Jon Pass 35mm tires, Nitto products from SimWorks, a handmade wheelset and Chris King hub/headset/bottom bracket bearings make this custom bicycle ready to perform for many years to come.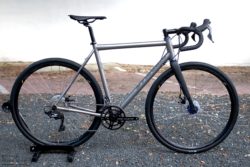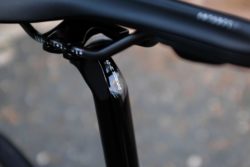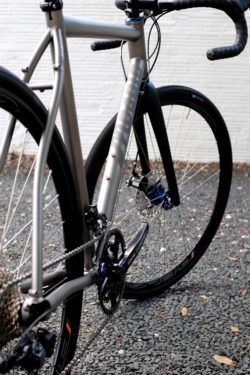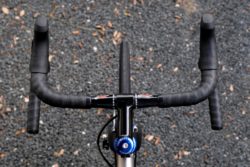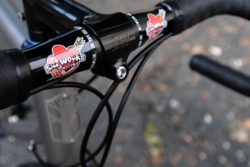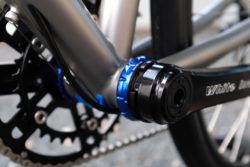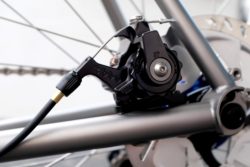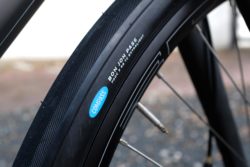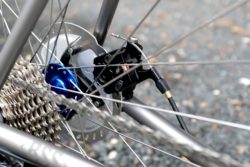 .
John's Open U.P.P.E.R.
The Open U.P.P.E.R. is truly unique in that it's one of a few carbon frames with road oriented geometry and the capacity for plus size tires. Of Open's three models in the "Unbeaten Path," or U.P. line, the U.P.P.E.R. sits at the top. It's lighter than the previous two models, accepts flat mount disc brakes and comes with Open's U-turn fork. The U-turn allows for an adapterless flat mount brake and has a 12mm axle. The bike's drive side chainstay design allows for greater tire clearance, various cranksets (including double chainrings), and even adds stiffness. The U.P.P.E.R. uses an 86mm wide press fit BB shell, which is able to receive the dropped right chainstay and give room to tires and chainrings. For a while, 1x drivetrains were a given on all-road bikes like this, but it's become clear that achieving a desirable cadence can be tricky with a single chainring. Other manufacturers are taking this into consideration too and beginning to equip (and retrofit) adventure bikes with more tire clearance and room for two chainrings. Here's a fun read on a similar topic over at the #radavist. For this bike, John chose a carbon wheelset with a slightly smaller tire as well as an alloy wheelset with a gravel tire so he can swap them whenever he gets the itch. Mechanical Ultegra, hydraulic braking, an RX800 RD and an Enve/3T cockpit make this bike ready for anything.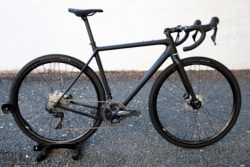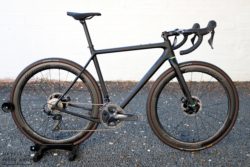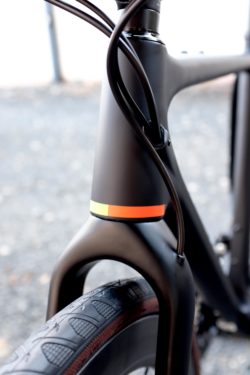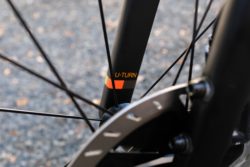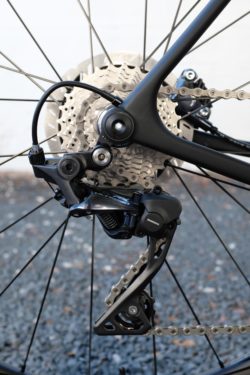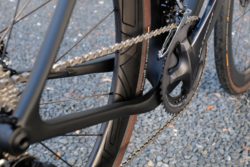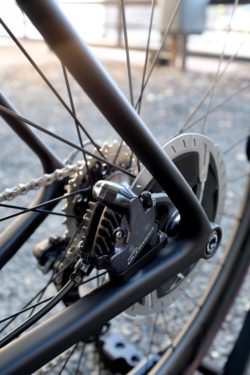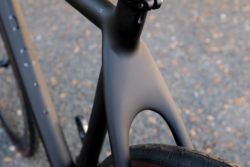 .
Jon's Mosaic GT-1
Jon's GT-1 errs on the side of pavement, but is built for rough roads too. He didn't hold back on this one and we're happy he didn't! Yet another incredible bike this year equipped with Dura-Ace Di2 9170. Enve 4.5 AR's, Dura-Ace power, and an Enve cockpit; this bike has it all. Matte slate Chris King and a bar end Junction A keep this bike looking clean and ready for the elements. This is one of two Mosaic's Jon allowed us to build for him this year. Check out his Mosaic MT-1. Have we mentioned that the Compass Bon Jon Pass 35mm tire might be our favorite choice for GT builds?