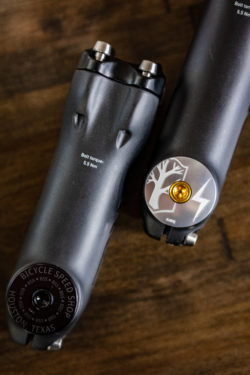 If ever there were an alliance between Bicycle Speed Shop and another external brand, Mosaic Bespoke Cycles and Spectrum Paint and Powder Works would undoubtedly fit the bill like none other.  As a point of proof, eight out of ten bikes from our 2019 favorite builds had either originated from or were appropriated for custom paint at the aforementioned studios.  Aaron Barcheck stands as the proprietor of each, located in Boulder Colorado.  In the early planning stages of my own Mosaic project, and while still residing in Colorado, I was afforded the luxury of touring the production facilities that would soon be crafting my RT-1d.  Enjoy the photo set from the day and follow along as I continue to chronicle why I had selected Mosaic to produce my Houston themed BSS build.
Grade 9 3A/2.5v Titanium and Columbus Spirit HSS Steel are the materials which make magic in the ride characteristic of a Mosaic.  Attentiveness to detail reveals itself in the internal conduit for brake hoses – one of Ryan Strayer's most appreciated features found in a Mosaic.  It's not always fun or expedient to fish internal lines and hoses – with a Mosaic, it's always a breeze!
"Always be Chain-Staying."  I had no clue what wisdom Aaron was attempting to convey with that statement, but he had repeated it several times over and I can't refute his knowledge in bike building. What became evident, was Mosaic's small batch method of production wherein each day of the week, a segment of the frame would be crafted for what handful of bikes are in that week's production queue.  On this day, the schedule called for chain stays.  The genius of Mosaic's small batch method, lies in the expedient method in which the final product is delivered to the owner.  Full custom frames are completed and shipped in just 6 weeks or less.
After the walk around at Mosaic, Phillip Ball and I made the 2 mile jaunt across to Spectrum Paint and Powder Works, the in house paint facility for Mosaic and Barcheck. I'd been captivated by the drool worthy bikes that Aaron had featured annually at the North American Handmade Bike Show.  For the 2019 edition, Mosaic had brought forth an array of color fades and some "bass boat" sparkly builds that grabbed the attention of the entire cycling industry.  At one point during the tour, I had spotted a Flake O Matic 1000 airbrush tool.  Was this the secret sauce behind the sparkle paint?  Secrets can't be told!
I was thrilled to find the first article being prepared for finish work on this day was an RT-1d that had been ordered through Bicycle Speed Shop.  Nigel's frame wasn't yet the glossy red standout with signal white lettering that I would be reunited with back in Houston, but sat posed in it's earliest state of bicycle; a raw assemblage of titanium bits masterfully crafted to custom geometry and fully capable of enduring decades of persistent hard use.  Still, the module lingered in a state of infancy and incompleteness without the application of it's bright red coating.  The contradiction behind painting a titanium frame lies in the axiom that when left unfinished, titanium will withstand oxidization and corrosion from water, salt and air with an incomparable resiliency.  Perhaps, what best typifies the appearance of a titanium bicycle is the beloved grayish hue.  Why one anyone want to conceal the beautiful 'stack of dimes' welds with paint? With Mosaic and Spectrum's imaginative offerings, the opposite often wrings true.  Have a look at their Prismatica and Ruby Slipper schemes and you'll understand…
Earlier in the day I had been front loaded with the details of another exhaustive project that was slated for Bicycle Speed Shop based on the Strava orange pantone. Upon stepping into the main workspace, Jason's Pinarello F10 stood secured in a stand, isolated from any hazards that may come about from a gaffe in proximity.  The orange base coat fueled an aura of levitation that was conspicuous from across the room at each glance.  Spread on the adjacent table was an array of decals curated to feature the BSS bolt, a KOM Crown, a coffee mug and a small cog.  It wasn't evident in the moment, but in examination of the finished product, I can only imagine the time and precision required to remove the masking from each mug handle or the negative space within the cog interiors. There are hundreds of each dispersed about the frame.  It's the subtle details that stand out on this masterpiece.
When Aaron and Phillip visited the Speed Shop during our 5 year celebration last October, we were ecstatic to showcase the many Mosaics that have been adorned with the BSS bolts.  Almost 20 bikes were exhibited. It is always an extraordinary treat for the owners of a custom crafted bike to 'meet the maker' face to face – let alone to ride with alongside.  While in attendance, Aaron once more upped the anti on bicycle customization by presenting Brian with a new RS-1d featuring: custom geometry, custom spec'ed Columbus tubing, custom paint themed to match the BSS pantone, our art deco facade, and our branding imagery.
Visit the Speed Shop yourself to take a look at Aaron's skilled work up close.  If you're interested in a new custom bike or a paint job, expect that our first recommendation will be with our allies from Boulder.