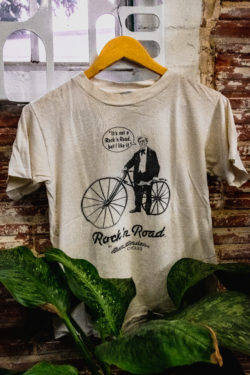 There are frame builders, and then there are bike builders.  There are production bikes, and there are constructed bikes.  While all grades of bicycles are celebrated at the Speed Shop, you'll find that we go completely wild with excitement when a project that carries a component of heritage and substance materializes.  Enter Bruce Gordon.  Last July, a valued customer of ours joined us on a shop gravel ride where his partner presented herself atop a beautifully maintained Bruce Gordon in a vibrant red paint finish.  Ryan and I were all over it – requesting to take photos and inquiring as to the bike's history throughout the course of the ride.  For us, that bike was the embodiment of a focus towards craftsmanship, attentiveness to details, and purpose driven features.  For us, a Bruce Gordon bike serves as a physical representation of those who champion the culture of small business and advocacy for a direct relationship between the maker and vendor.
Fast forward to January and our friend Ron returned to the Speed Shop and presented Ryan with a request to modernize another Bruce Gordon.  We hadn't been aware that there was a second bike! The request was reportedly based on the enthusiasm around that Red Gordon from the ride in July.  Ron's directive was to update his Rock n' Road with a modern groupset along with a hand built pair of wheels.  We spec'ed the rebuild with SRAM Force 11 speed shifting, Paul Mini-Moto stoppers, a Chris King headset and hubs laced to HED Belgium Rims. Panaracer made tires supplied by Rene Herse were chosen to honor the Panaracer produced Rock n' Road tires that Bruce Gordon was so renowned for.  A White Industry crankset was chosen to round out the connection to Petaluma based cycling brands.  Finally, a pair of Nitto made Rene Herse handlebars were fixed to the original BG stem.
We hope you can enjoy and appreciate the final build as much as we did when putting it together.  We also hope that this build can honor the heritage of those craftsmen who paved the way for community based bike shops like Bicycle Speed Shop to remain necessary in an industry dominated by mass production.
Long Live the SOPWAMTOS!